For the conference program please click here: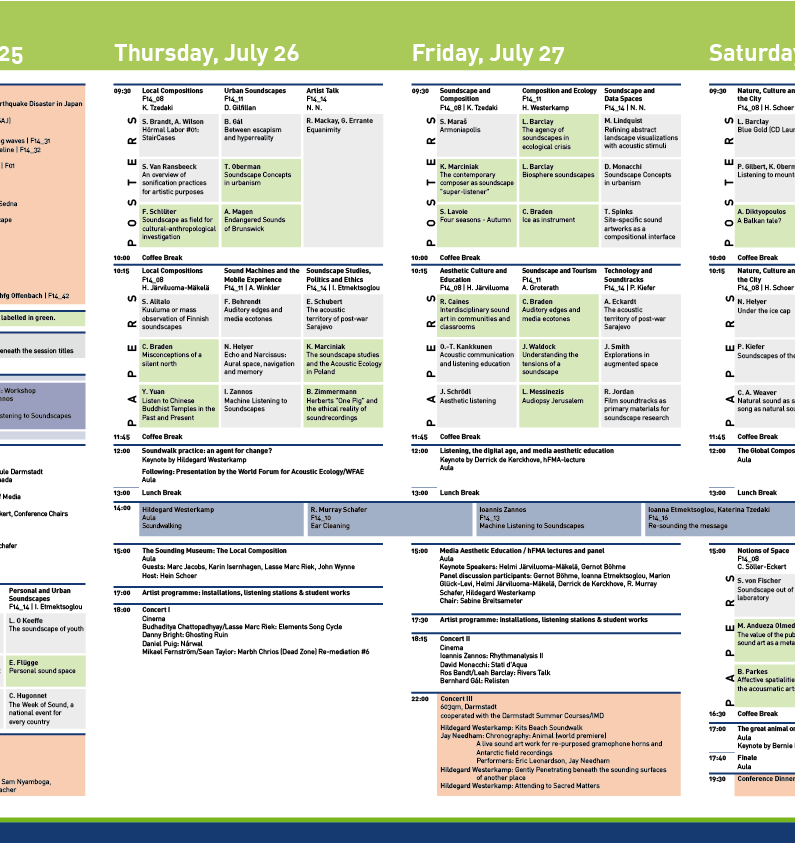 The conference will be opened in the afternoon of Wednesday, July 25, 2012, by Konsul Leslie Th. Reissner, who will be representing the government of Canada, Hochschule Darmstadt's vice president Prof. Dr. Bernd Steffensen, the Mayor of Dieburg, Faculty of Media's Dean, the President of WFAE and the Conference Chairs.. It will end Saturday night, July 28, 2012, after the conference dinner. We are currently preparing a post-conference trip through the famous historic and very picturesque Odenwald forest region.
Keynote presenters:
Gernot Böhme

Professor em. of Philosophy, TU Darmstadt
Institut für Praxis der Philosophie Darmstadt/Germany

Helmi Järviluoma-Mäkelä
professor of Cultural Studies, University of Eastern Finland/Joensuu
Derrick de Kerckhove

Former Director of the McLuhan Program in Culture and Technology/University of Toronto, Canada, and Professor for Sociology of Digital Culture/Università Frederico II, Naples, Italy

Bernie Krause

scientist, electronic musician, soundscape pioneer

R. Murray Schafer
pedagogue, composer, scholar, Indian River/Canada
Hildegard Westerkamp
composer, pedagogue, Vancouver/Canada
Further major presenters include:
Ioanna Etmektsoglou

Assistant Professor in Psychology of Music, Ioanian University Corfu/Greece (tbc)

Trevor Isaac
U'mista Cultural Society, Namgis Nation/Canada
Marc Jacobs

director faro, member UNESCO commission Belgium,tbc
Eric Leonardson

composer, radio artist, sound designer, Adjunct Associate Professor, Department of Sound, in The School of the Art Institute of Chicago, USA

Jay Needham

composer and sound artist; Associate Professor, Audio Arts, Department of Radio-Television, College of Mass Communication and Media Arts
Southern Illinois University Carbondale USA

Post Earthquake & Tsunami Research Project
Members of the Soundscape Association of Japan will present an exhibition plus papers on their ongoing Post Earthquake & Tsunami Research Project.
| | |
| --- | --- |
| Koji Nagahata | Associate Professor of Soundscape Studies at the Faculty of Symbiotic Systems Science, Fukushima University |
| Keiko Torigoe | Professor, School of Cultural and Creative Studies, Aoyama Gakuin University, Tokyo |
Besides its overall conference theme the conference will feature the following topics in
special panels:
| | |
| --- | --- |
| • | Media aesthetic education and the role of listening |
| • | The Local Composition: Analyzing the network of the global soundscape's elements |
Encouraging younger people to submit themes and to attend, the conference will provide a
special next generation thread.